FBOC members – If you found a nice opener recently send us a picture. We would all love to see it.
Send photo's to dundalkmdchess@gmail.com with the subject: Recent Bottle Opener Find
Recently purchased. An F-38 "All American" in great condition.
Here are 2 openers made of Aluminum. A Circus Ring Master and Elephant. They're marked AMF on the bottom with numbers 6 and 9.
This rare opener was found by one of our members on the way to the convention last year. It was lying down on a high shelf in a co-op right up the street from the hotel. Talk about Luck !
F-418 Winking Boy.
A doorstop in the shape of a Lampost Drunk at the convention. It's approxamatly 11″ high and 6″ wide.
An F-89 Monkey purchased at an auction.
Here are 2 openers. The Swimmer is a little beat up. The Dragon is in nice condition.
F-195 Swimmer
F-145 Dragon
We have taken to collecting various leg and boot openers of late. The Blue Leg/Boot was the one that we had at the convention this year, the other ones we have gotten since the convention.
LK&R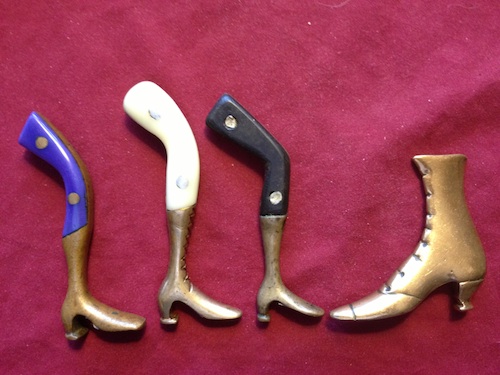 Larry Long sent in this nice photo of the different Skull wall mounts he's collected.
Thanks Larry.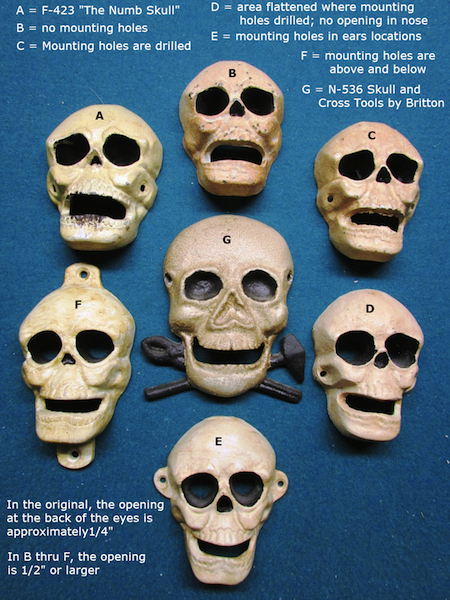 My Favorite Openers – Larry long
Claude Britton made several Bottle Openers. He had them cast at a local foundry and painted them himself.
N-661 Longhorn Skulls
N-? Devil Face – marked 1993 on the back.
N-578 Parrot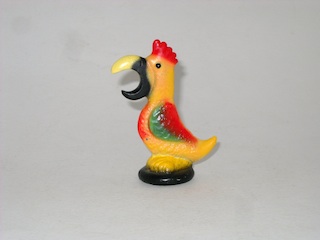 N-554 Mermaid – Marked 1989 on the bottom.
I am sending a picture of Sammy Samoa, F-39, which I recently purchased on e-bay. The seller said that it had belonged to his father who had gotten it at college back in 1955 and treasured it all of these years. The son did know that it was a bottle opener but, like so many off-spring, had under-estimated the value of his dad's belongings. The pictures listed on e-bay showed a very clean, bright condition on the original ashtray. It was a Buy Now auction and I grabbed it up very quickly. I was pleasantly surprised when it arrived by mail that it was in near mint condition. This will definately upgrade my collection and I hope to have many more similar finds.
Jack Lanz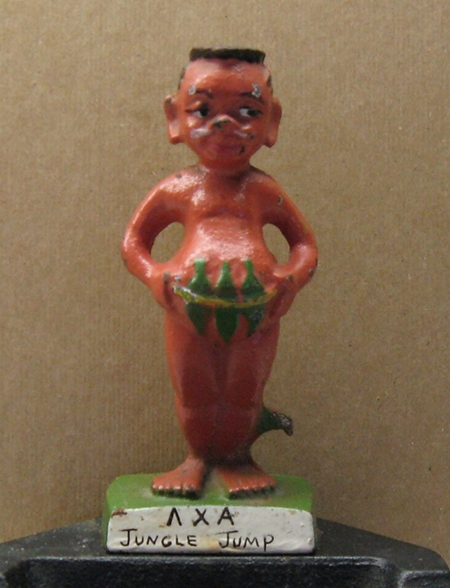 Here's a photo of an opener one of our members recently purchased on ebay. An F- 418 Winking Boy. This is one of the harder to find wall mounts. The condition is excellent. Beware of the many Reproductions of this opener there are many on ebay.
A photo of the new reproduction F-418 Winking Boy Opener. It's pretty close to the original.
"Never Say Never"
First of all, I wanted to say how much I enjoyed our Convention. I'm glad to see that the excitement over figural bottle openers is still as strong as ever even though openers are getting harder and harder to come by which brings me to this story that I would like to share with you.
On Sunday June 26th I went back up to Adamstown, PA for the Renninger's Extravaganza. I went up with a good friend of mine who also enjoys flea markets and such. We arrived at Renninger's at 6:05am having left the house at 4:45am. We walked around back to the outdoor field and started in the long pavilion on the far side. We were going to work our way through the open rows until we reached the opposite side which is in a grove of trees. Once again, openers were few and far between, … a few lamp post drunks was about it.
After we had covered about half the field, it started spitting a little bit causing a few vendors to start covering up. Needless to say, I was bumming out big time. It's bad enough not fmding any openers and now a potential rain-out was all we needed. Luckily, within 10 minutes the sprinkles stopped and the clouds started breaking up. What a reliefl The vendor began to uncover their wares and I continued my search. After reaching the last row without any luck, I ventured into the grove of trees. Normally no one sets up in this area but due to the number of vendors, about 15 or so were set up in this section so I figured what the heck, I've got nothing to lose.
Well, … it turned out to be one of the best decisions I ever made in my life. I got about halfway through the grove when something caught my eye. Sitting all by itself on top of a vendor's case was one of the "Holy Grail" of openers. As I approached, I began shaking uncontrollably. I couldn't believe it! Right before my eyes I was face to face with a mint condition F-99 Rooster. I have absolutely no idea why it was sitting on top of the case all by itself for me to stumble upon. Can anyone say "Divine Intervention"? I quickly picked it up and began fondling it like a newborn child looking for the price sticker which is usually placed underneath the base. Guess What, … no price. I was fully prepared to shell out $200.00 or more if I had to. They are that scarce!
Now came the moment of truth,., .. I sheepishly approached the vendor and asked him how much the "rooster figurine" was …. playing dumb of course. Drum roll please, … his reply, 40 bucks! I was so excited, I didn't even ask him if he would take 30 or 35, which I'm sure he would have. Money came flying out of my pocket so fast you would have thought I was pulling out a handgun. From that moment on, … I didn't care if we saw another opener the rest of the day.
After we left Renninger's, we drove over to the Black Angus Extravaganza about a quarter mile down the road and later over to Shupp's Grove which is another mile away. Guess what? Nothing! I didn't care for my day was complete. I don't think that rooster left my lap all the way back home to Baltimore … my friend was driving.
I couldn't wait to call Lyle and Karen Moreland to share my excitement which is why I'm sharing this story with all my fellow collectors. Yes, openers are scarce these days but they can still be found, so "Never Say Never".
Happy Hunting!
Jamie Murdock