For Sale
The club has made a few T-Shirts and Commemorative Openers over the years. The openers are made of Cast Iron. Contact our sales rep about purchasing a shirt or opener.
Here's an opener from 2000. Remember the Y2K Bug? Here it is. One side depicts the bug before 2000, the other side after.
$12.00
Here's a Dinosaur for the 20th Anniversary. 1978-1997
$15.00
T-Shirt. Available in Extra Large only.
$10.00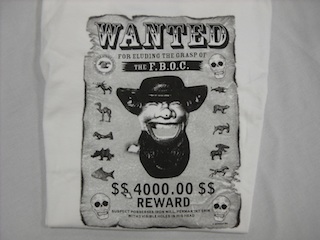 Contact our Sales Rep at lyri.ka@verizon.net
FIGURAL BOTTLE OPENERS FOR SALE OR TRADE
Downsizing some of my long-time collection. Over 400 openers individually for sale or trade – or as a package deal. Will provide a list if interested. Some are duplicates of those I plan to keep. Some are variations as approved by the Club.
Included in the list are: F3 Lamppost Drunk, several Foundryman variations on ashtrays, Patty Pep, Freddie Frosh, All-American, Caddy, the Flamingos, F-131 Pelican, F-280 Jackalope, F-401a Black Face, F-420c False Teeth on ashtray, F-423 Skull (not a repo), Kaier's Beer Miner on ashtray (not an opener) and Yuengling Beer man toasting a mug (not an opener). Also several other great pieces on ashtrays that aren't openers.
Larry Long, ldlong2@att.net.
Looking for an F-99 Rooster.
Ed Bonsell, smedley945@gmail.com.